Every party or event is unique and has it's own specific entertainment needs. I am proud to offer a variety of shows and entertainment options to help make sure that your event is a hit! On this page, you'll find descriptions of the main forms of entertainment I offer. Have a unique party or special situation and you aren't sure which show would be best for you? Call or email me today and I'll be glad to discuss your event and help you out!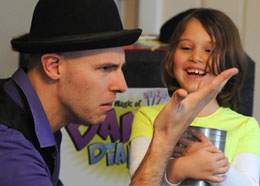 THE BIRTHDAY SHOW
is a comedy magic show where I focus on getting all of the kids involved, the
Birthday Child
in particular. At the start of the show, I acknowledge our guest of honor, the birthday child, and then I invite the them up on stage to help with the first trick of the show. Throughout the rest of the show, I make sure all of the kids get to help in some manner, to make the magic happen.
Finally, to finish the magic show, I once again invite the birthday child back up to help with the final trick and then I present them with a special personalized, custom, balloon-sculpture, as a gift from me to them.
The shows can be either 30 or 45 minutes long and there are two Birthday Show variations:
Lil Kids Birthday Magic Show
This show is geared towards ages 4-7. The magic itself is very simple to follow, very colorful, and very silly. There is magic happening throughout the show, but a whole lot of silliness too. At this young age, the kids don't care about skillful sleight of hand or amazing mind-reading…they just want simple magic and a ton of FUN!
Big Kids Birthday Magic Show
This show is best for ages 8-10. It's still a fun-filled kid show with lots of comedy and jokes, but the tricks begin to get a little more deceptive and a bit more impressive to the older kids. This show is presented with the understanding that they are getting a little older and don't want to see a "babyish" magic show.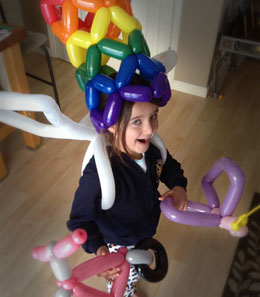 DELUXE BALLOON-TWISTING
is a unique, creative, and fun offering to either add to a Birthday Show or to present on it's own. Fairs, festivals, grand openings and school events are all perfect places to have a Balloon-Twisting station set up for your guests.
My Deluxe Balloon-Twisting is offered on an hourly basis and is intended for ages 2 and up. Kids, teens, and adults, all really love the wide variety of hats, animals and more that I can create.
Take a look at my Balloon Gallery to see why I call them "Deluxe" – these amazing creations are a few steps above the typical "doggy" balloons you might be used to seeing!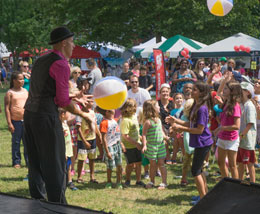 THE FAMILY MAGIC SHOW
is, as it's name implies, a comedy magic show that is geared towards a varied family audience. Meaning, some of the effects/routines are geared towards the younger kids (colorful, simple-to-follow, sillier tricks) and some stuff is a bit more "advanced" for the older kids and adults to appreciate more (more impressive, more deceptive tricks).
That said – I never exclude any groups in the Family Show. The younger kid tricks are never SO "babyish" as to exclude the older kids completely – and the older kid tricks are never SO "advanced as to completely lose the younger ones. It's a very nicely balanced show!
The show also involves a LOT of audience participation. I have helpers up on stage for nearly every trick I do. Having helpers from the audience is a KEY part of the success of my show. No one wants to see ME up on stage alone the whole time – they want to be part of the show!
The Family Comedy Magic Show is typically around 45 minutes, but it can be adjusted to your party or event. It's a great option for Fairs, Festivals, 1st Birthdays, Corporate Family Events, etc. – basically, anywhere where you might encounter a wide mix of ages that all want to be entertained!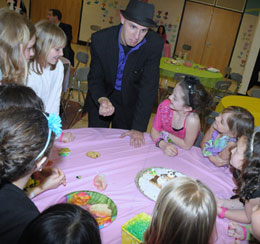 STROLLING MAGIC
brings the magic up-close and personal with some amazing magic happening inches away and often right in your guests hands!
This style of magic involves me mingling and walking around the venue, providing comedy magic entertainment for small groups at a time. It's a great choice for events where guests are seated or there are a lot of forms of entertainment occurring and a formal stand-up show is simply not practical.
Cocktail hours, dinners, communions, school events, fairs, and festivals, are some of the places where strolling works quite well.